Normandy coast and Landing Beaches
2 day(s)
What you'll love:
Rounding a corner to discover a village tucked away in the countryside of Normandy,
Heading down the coast with the convertible top down to breathe in the fresh sea air,
Admiring the breathtaking beauty of apple blossoms as far as the eye can see.
With one of the richest cultural, gourmet, architectural and natural heritages in all of France, Normandy is one of the most sought-after destinations for tourists year after year. Here in the kingdom of William the Conqueror, this open-air cookbook of traditional French recipes is the ideal haven of respite for a jaunt in a classic car. And, of course, Normandy will be the eternal memorial of the largest-scale military landing ever performed. Admire one of the most fascinating regions in France from a comfortable seat in a prestigious vintage car.
Your vintage car road trip
DAY 1
Honfleur - Pointe du Hoc
Departing from Honfleur, set out in your classic car to discover the main sites of the Normandy landings of WWII. On the way, stop over at the spots that take your fancy, and admire the iconic towns of the Normandy coast, from Deauville to Trouville to Cabourg... From Ouistreham to La Pointe du Hoc, make the most of this tour of the coast, and immerse yourself in the history of France and the greatest military landing by sea and by air that the world has ever seen. .
DAY 2
Pointe du Hoc - Caen
After a relaxing stopover in the heart of the back country, set out the next day for Caen and its WWII memorial center. Officially listed as a French City of Art and History, Caen is overflowing with cultural and architectural treasures. Not to mention a few strongholds of the typical cuisine of Normandy. The classic car circuit takes you back to Honfleur, the historical departure point of this thrilling itinerary.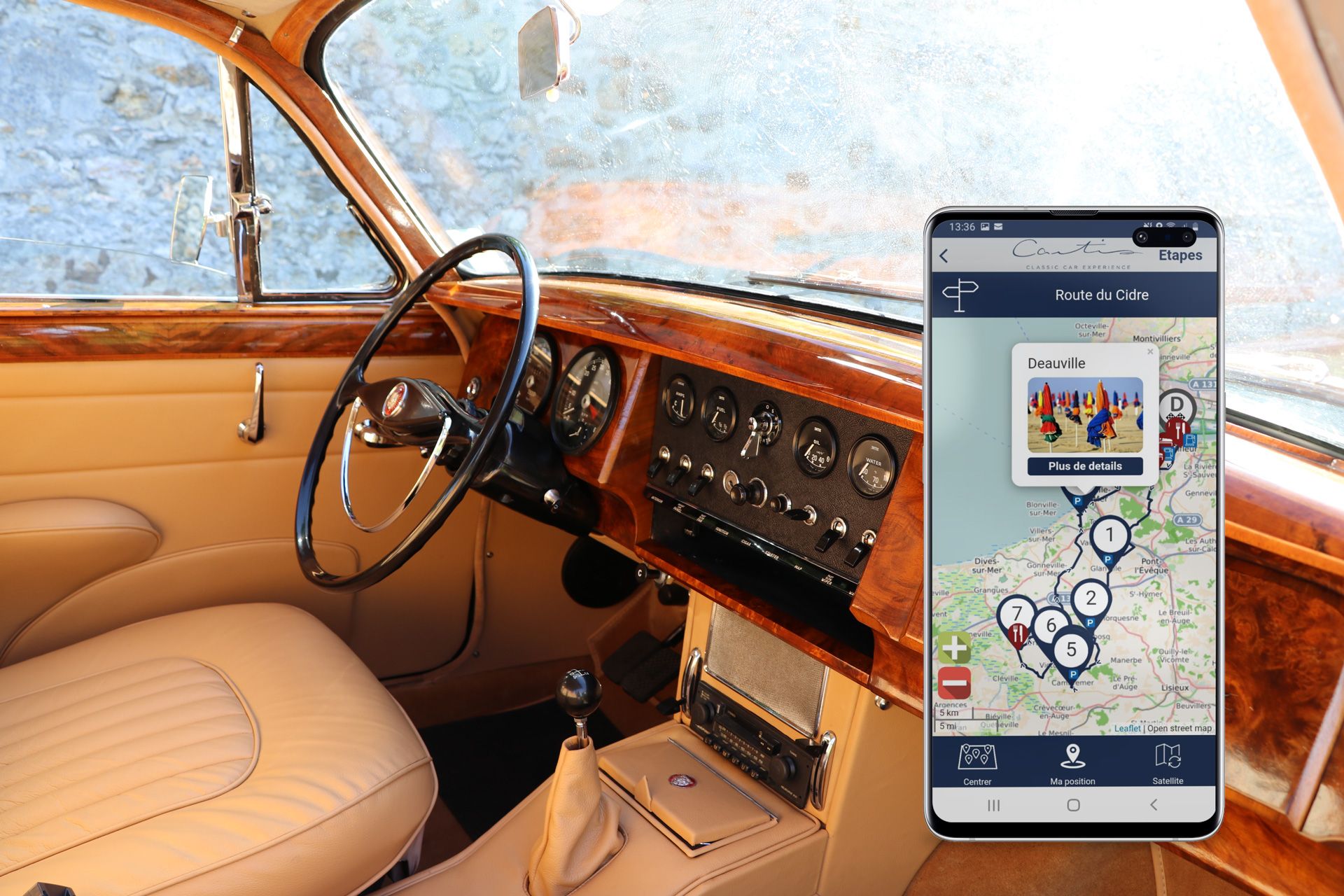 Our digital tourist application
Installed onboard each of our classic cars. No need for a map or guide!  The Cartis audio-guided GPS app is a revolution on the classic car rental market. This self-guided GPS audio app is built into each car. Simply turn the key, activate the GPS, and enjoy your classic car journey to the fullest.
Fonctionnalities :
Onboard GPS navigation
A genuine tour guide
Geofencing
Offline display
Off-route alerts
Printed travel guide
Your Cartis classic car rental includes :
Rental of the classic car of your choice
Provision of our tour-oriented audio guide GPS application
Inclusion of our travel logs pinpointing the places of interest
The planting and sustainable management of a tree on your behalf
Our recommendations of the best hotels, restaurants and local farms
The service does not include the reservation of hotels, restaurants or leisure activities.