1967

6 cylinders

manual

British Racing Green

4 seats

4 doors

-

SP 98
"A Jaguar isn't a copy of anything", Sir Lyons
Step into our 1961 MK2 and discover all the English elegance and chic of the '50s and '60s. Experience the cozy warmth of an English parlor, seated in the plush comfort of a Connolly leather armchair surrounded by intricate marquetry woodwork.
The most luxurious sports sedan of the 1960s, the Jaguar MK2 had no match during its era. It was the safest, most beautiful, and stable of all the compact Jaguars; a revolution in performance, handling, comfort, and driving quality, even introducing an innovative four-wheel disc braking system.
This model was the brainchild of charismatic creator Sir William Lyons, knighted by Queen Elizabeth II in 1956. It proved itself in competitions and international rallies in the hands of Formula 1 drivers such as Stirling Moss, Mike Hawthorn, Graham Hill and even Bernard Consten. The latter was a four-time winner (1960-1963) of the bygone Tour de France Automobile race, held annually.
Rental terms

27 years of age minimum 75 years of age maximum Driver's license: currently valid and issued for more than 3 years. A license issued in France or elsewhere in the EU must carry more than 8 points and must not have been suspended in the 24 months preceding the rental. A license issued abroad (outside the EU) must be completed by an international license or a certified French language translation of the original version. Mileage limit: 150 km / 93 miles per day In excess of mileage limit: €2.50 per km Smoking and pets are prohibited inside the car Wedding rentals and sub-leasing are unauthorized

Cancellation terms

If the cancellation occurs more than one month before the rental period, Cartis reimburses 100% of the amount. If the cancellation occurs more than 15 days and less than one month before the rental period, Cartis reimburses 50% of the total amount. If the cancellation occurs 15 days or fewer before the rental period, Cartis does not reimburse the amount of the rental, but issues a credit note valid in the three months following the initial date of rental.

Documents required

A valid driver's license (see rental terms)
Photo ID (national identity card or passport)
Proof of address for residents of France
Credit or debit card in the driver's first and last name for the security deposit (AMEX cards not accepted) 

Insurance

All-risk, all-driver insurance
Individual driver coverage
Insurance: You are covered in case of theft, fire, and accidental damage.
Assistance: You are covered by personal and vehicle assistance in case of breakdown or accident, including the provision of a modern replacement vehicle.

Deductible

€5,000. A security deposit is requested as pre-approval on the credit or debit card in the first and last names of the driver.

Rates

From €950 tax-inclusive per day depending on the season
Our digital tourist application
To ensure that you make the most of your Cartis car rental, each vehicle is equipped with an onboard tour-oriented GPS application.
A true digital innovation, it guides you throughout your road trip through the French countryside in a collector car.
A comprehensive tour guide with an audio option, this digital tourist application indicates the approach of each point of interest and tells you the history behind it.
Your Cartis classic car takes you on an exceptional tour mingling the advantages of a cultural excursion with the liberty of the open sky and fascinating landscapes.
Settle in behind the wheel of a vintage car from the golden age of automobiles and let the GPS guide you through a breathtaking tour.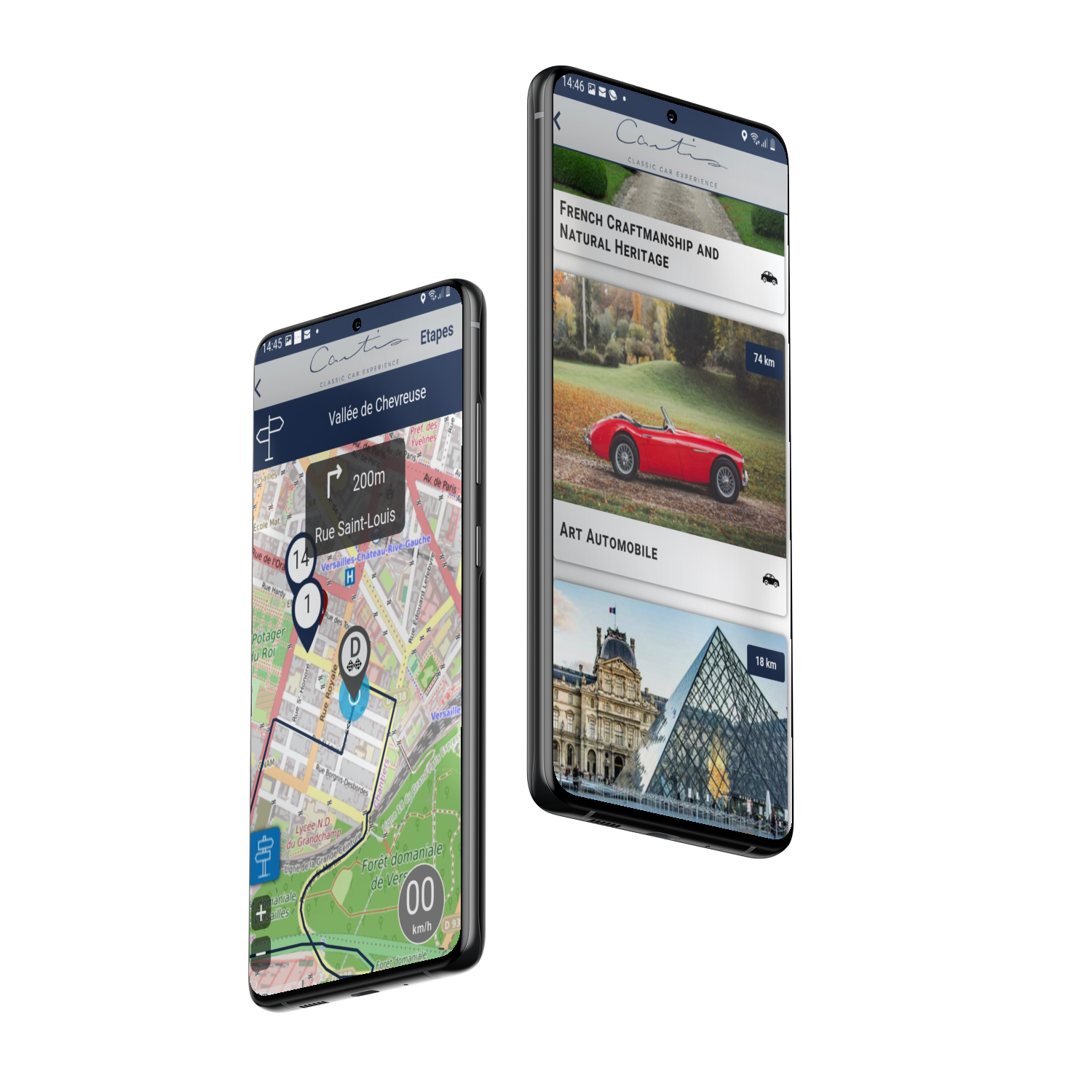 "The car drove like an absolute dream. Rented this gem for a great week-end. Excellent ride - beautiful car in nearly mint condition."
Erwin A. - Denver - October 16, 2022
"What can I say except for amazing. Cartis did everything to make our day special. The car was absolutely stunning. Thank you to Bénédicte and Sébastian!"
Roger H. - Chichester - July 5, 2022
"Dream experience. MK2 was in beautiful condition. Truly an amazing piece of engineering. Super fun ride."
Scott F. - Seattle - December 6, 2022

+33 6.63.22.76.84