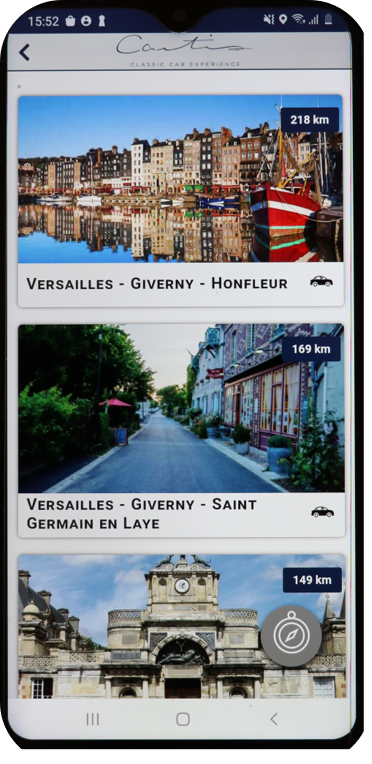 For a few days
Versailles – Normandy
« Every day I discover something even more beautiful, it's crazy... », Claude Monet.
Rent one of our classics and set off to explore the routes of the Impressionist painters.
Road trip idea
After crossing the Chevreuse Valley and visiting the village of Giverny, Claude Monets House or the Impressionist Museum, you can book your dinner and overnight stay at one of our recommended addresses.
The tour then takes you to Honfleur, one of the cradles of this artistic trend. It remains a source of inspiration to this day, as can be seen by the numerous art galleries and workshops.
We can recommend some of the best hotels in the region where painters such as Boudin, Corot, Courbet, Bazille and Monet, stayed before you.
The next day, follow one of our tours to discover the cider route or immerse yourself in the history of the D-Day landing beaches before discovering the incomparable atmosphere of the Clairefontaine racecourse at Deauville ...
Book your journey: + 33 (0) 6 63 22 76 84
---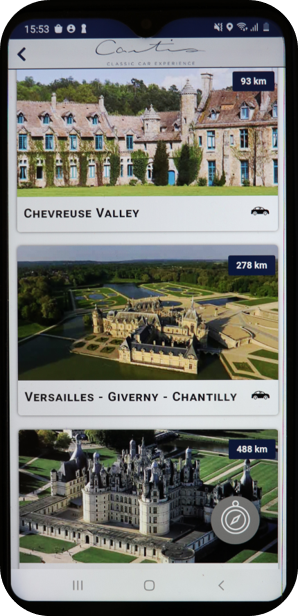 Versailles – Loire Valley Castles
« Yes, all else disappeared when I saw the banks of the Loire and the hills of the Touraine. I was filled with a delicious sensation... », Honoré de Balzac.
Inspiration
From Versailles, you drive towards the Loire Valley. This cradle of French art witnessed the passage of key authors of French literary heritage such as François Rabelais, Jean de La Fontaine, Honoré de Balzac and George Sand. After a gourmet dinner and overnight stay near the Château de Blois, book your dinner and overnight stay at one of the best addresses in the region. The next day follow the banks of the Loire to start the day with a beautiful flight in a hot air balloon and a visit of the Château d'Amboise.
Follow the enchanting roads of the Loire Valley and discover the Château de Chenonceau, also known as the Chateau des Dames due to the many influences of women on its transformation over the years. Book your visit to this flagship of the Loire Valley architecture, whose history was marked by the presence and involvement of women such as Diane de Poitiers or Catherine de Medicis. 
Head back on the road to visit the Château de Cheverny and the Château de Chambord. This is the largest of the Loire Valley Castles and a UNESCO world heritage site, born of the ambition of King Francis I, the emblematic king of the French Renaissance period. Decide wether you stop for the night  in a peaceful place near Cheverny to rest and sample the local gastronomy or return to Versailles.  
Book your journey: + 33 (0) 6 63 22 76 84